We're so excited to share some new photographs of our remodeled spaces. The iO Theater reopened on November 3rd, 2022, and with that reopening came a little bit of a redesign that we wanted to show off here.  Thanks to photographer Kyle Flubacker for capturing these moments just before our reopening party back in November. If you haven't come in to the theater yet to check out a show or the new spaces, you should! Our bar and kitchen are open at 6pm Thursday through Sunday. Shows start at 8pm and 10pm on each of those nights. No show ticket necessary to just come in and enjoy some food and drinks in our new bar space.  If you love the look of our spaces and are interested in renting one of them out for your own private event, you can contact us HERE and we can get you more information. We'd love to work with you on creating a unique event incorporating one of our great new spaces and maybe even a custom created improv workshop or show.
We'd also like to extend a huge thank you to Bob Knuth, our extraordinary designer who helped us bring life and comfort in to all of our spaces. Come by sometime and check out the board games, books, DVDs, VHS, magazines, and records we've got filling our shelves in the main bar and the upstairs bar. We'll let you borrow something as long as you promise to bring it back.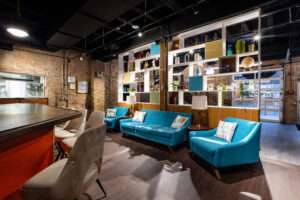 We also took the opportunity to rename our theater spaces as we step forward in to a new era of iO. Below you'll find photographs of The Dayton, The Fremont, The Kingsbury, and The Weed, all named after the streets that surround the theater.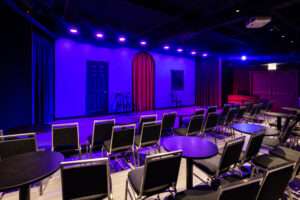 As always, a list of all of our upcoming shows can be found right HERE.